ClubMom
Technical Project Manager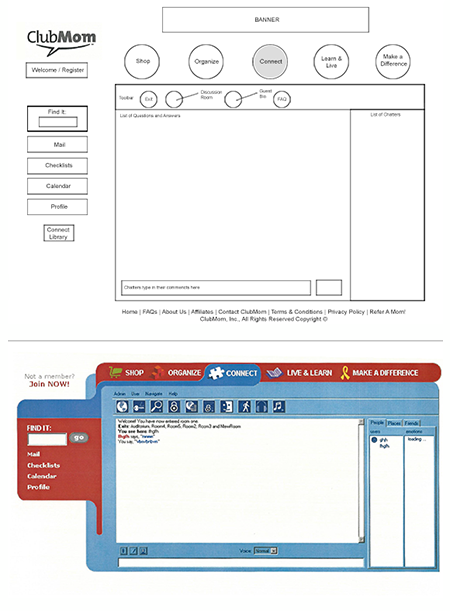 This set of images displays the development of a chat application where members would be able to ask questions of a celebrity. Presented is an example of the initial wireframes, the documentation, userflow and a mockup of the final presentation.
The complexity surrounding this chat project was user expectation and training. Chat rooms were becoming popular but AOL Instant Messaging (AIM) was still new and multi-user chat rooms were not common in the general public. We needed to gently guide people who had never used IM of any kind; make them comfortable in using IM; direct them to the celebrity chat; lead them where to input their questions; see if their question was put into a queue (or combined with other similar questions by the moderator) and then show them that they can pause, go back and return to the on-going chat.
In addition to this public facing aspect of the site we needed to allow for multiple celebrity users as well as numerous moderators.
The first image displays one of the low-level wireframes.
At bottom is one of the final skins designed for the iChat.
Visio
PS